Climate Research Across Duke
Climate Research Across Duke
As part of
Duke's Climate Commitment
, the university has prioritized investments in climate-related areas of research where Duke already has momentum: energy transformation, empowering climate-resilient communities, amplifying environmental and climate justice, and developing climate solutions based on data-driven outcomes.
Across the University, researchers and faculty from almost every discipline and department are engaged in climate research that impacts all disciplines, across our 10 schools. As a top 10 school for research funding, Duke has long been the home of dynamic climate research, including deep disciplinary and cross-cutting interdisciplinary work. From new energy materials engineering to environmental migration policy research, Duke's scholars are committed to impactful and collaborative research in a changing world.
DATA-DRIVEN CLIMATE SOLUTIONS
ENVIRONMENTAL AND CLIMATE JUSTICE
CLIMATE AND COMMUNITY RESILIENCE
Rethinking and Reshaping Plastic Pollution Solutions
While some of the world's largest companies have pledged to reduce plastic pollution, the underlying problem of plastic waste remains overlooked. Environmental pledges are at an all-time high, but most do not include steps needed to address the excessive use of plastic. Daniel Vermeer, executive director of the Center for Energy, Development and the Global Environment (EDGE) at Fuqua School of Business, Zoie Diana, Ph.D. candidate at Nicholas School of the Environment, and the Plastic Pollution Working Group explore actionable solutions in the fight against plastic, and business risks associated with climate change.
Image: Truck continuously dumping plastics onto landfill conveyor belt. (source: Ryan Gaucher, Fuqua Multimedia Team.)
A New Avenue for an Old Doctrine
Private property can't be taken or otherwise stripped of its value through government action without due compensation. But this doctrine has been exploited to prevent environmental regulation by allowing anyone whose property might be affected to sue, often for large sums. But Sasha Kahn, Duke Law '23 and editor-in-chief of the Alaska Law Review, has researched how this old doctrine might be repurposed to provide relief to Alaskans whose homes and livelihoods have been destroyed by permafrost melt.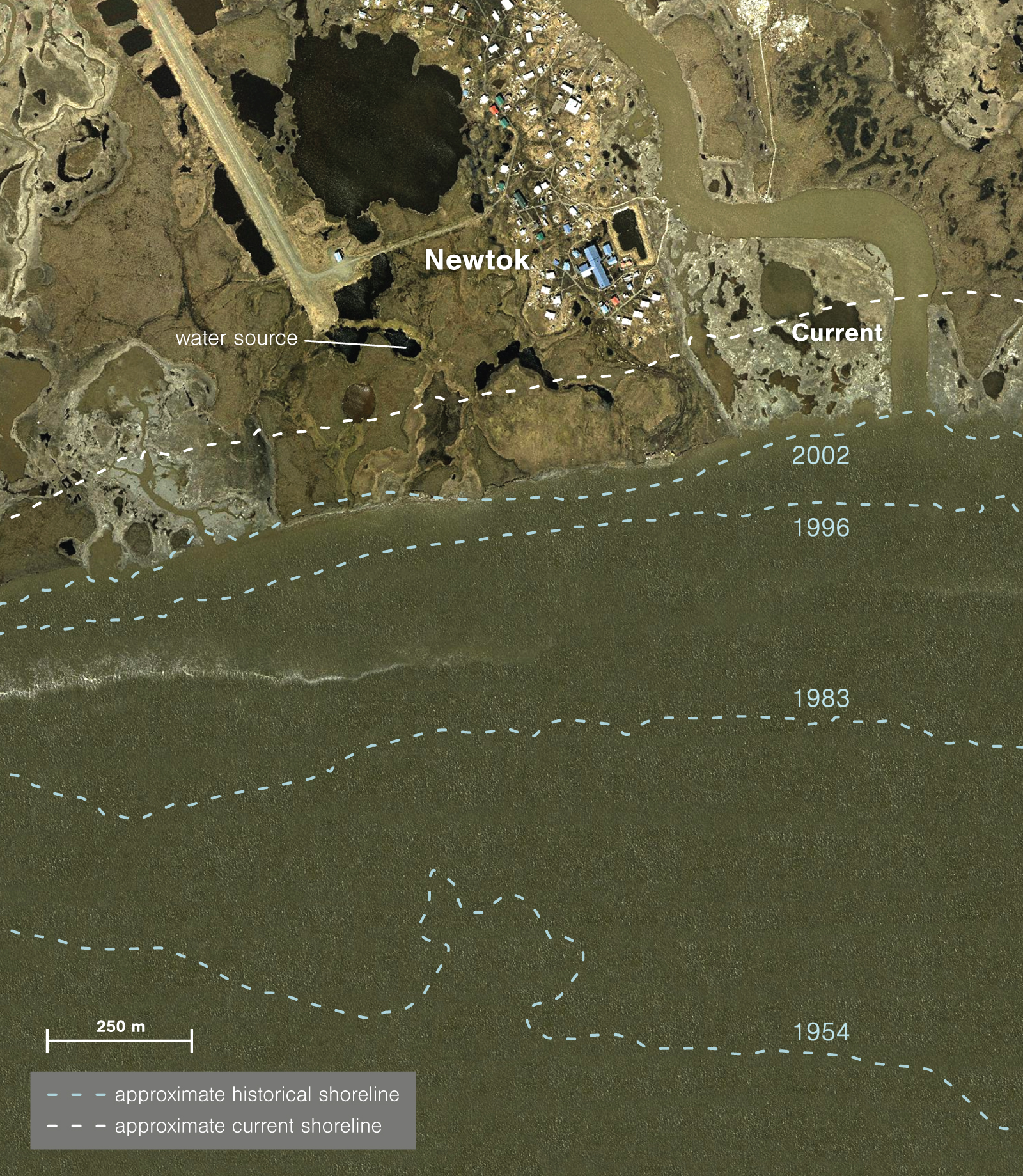 Background image: Google Earth imagery of Newtok, Alaska from 2007
Foreground image: Illustration of Ninglick River encroachment since 1954. Courtesy of Mark Garrison, Hakai Magazine
An Island of Discovery for Undergraduates
Nicholas School of the Environment
Catalina Lopez T'24, Olivia Polemeni T'24 and Abby Saks T'25, three undergraduate students with a passion for climate change research, describe engaging in climate research at the Duke Marine Lab.
Video: Scenes from the Duke Marine Lab (Courtesy of Duke University Communications)
Climate Change, Decolonization, and Global Blackness Lab
Trinity College, Arts & Humanities
John Hope Franklin Humanities Institute
The Climate Change, Decolonization, and Global Blackness Lab illuminates how colonization and global capitalism, within what has been termed the Anthropocene, have influenced climate change. The lab's research spans the destruction of slave burial grounds by hurricane-induced soil erosion, how the Sahara haze sheds light on our shared atmospheric future, and how the destructive effects of climate change disproportionately become disastrous for marginalized communities. Their work considers decolonization as an ethical approach to climate change.
Image: Professor May Joseph, Pratt Institute, speaks on Sahara Haze: Harmattan Wind and Tropospheric Histories. (courtesy John Hope Franklin Humanities Institute)
Mouse Lemurs, Climate Change and Rapid Speciation
Trinity College, Natural Sciences
Researchers have found differences between lemurs that suggest rapid formation of new species due to climate change. Through genomic research, scientists found that although the gray mouse lemur and reddish-gray mouse lemur look the same, they are actually two biologically separate species. That makes the mouse lemur a valuable indicator species for researchers examining the effects of climate change in Madagascar. Anne Yoder, professor of evolutionary biology and former director of the Duke Lemur Center, was on a team who disproved previously published research that had inferred the two species were connected hybrids.
Image: Anne Yoder in the field. (Courtesy University Communications)
Climate Change, Human Migration and Conflict
Sanford School of Public Policy
As temperatures rise, sea levels encroach, and food and water availability changes, human populations are on the move, often with political and cultural ramifications. Gabriela Nagle Alverio is a J.D. - Ph.D. student in the University Program in Environmental Policy (UPEP) whose dissertation research focuses on climate-induced migration and conflict in Central America. Tag along for a day in her life and hear why studying these migrations matters for community resilience and policy planning.
Image: Gabriela Nagle Alverio at Asociación de Investigación y Estudios Sociales (ASIES) event. (Courtesy of Gabriela Nagle Alverio)
Creating New Energy Materials
Pratt School of Engineering
At the the Duke Materials Initiative, Pratt School of Engineering faculty Adrienne Stiff-Roberts, David Mitzi and Volker Blum develop new materials for thin-film solar cell and energy technology. Some may be a cheaper alternative to current materials in solar panels, lowering the cost of solar panels for public use in the future. They show promise for improving the efficiency of panels beyond the current commercial state of the art. They are also being considered for other applications, such as energy-efficient lighting. Learn more about the Duke Materials Initiative.
Video: Lab assistants perform research on new materials at the Pratt School of Engineering (Courtesy of Wil Wedon)
Climate Data Expeditions: Climate & Health
School of Medicine & School of Nursing
Social determinants of human health -- safe drinking water, clean air, nutritious food and secure shelter -- are all affected by climate change. In Fall 2022, five interdisciplinary teams from around the university were funded to pursue data-driven interventions that address those effects. These teams, each of which included at least one researcher from the School of Medicine or the School of Nursing, and one or more from elsewhere at Duke, are investigating an array of climate-related impacts, such as wildfires, vector-borne diseases, natural disasters, nutrition and heat, on communities in North Carolina and beyond.
Image: Child scoops dirt around a newly planted seedling (source: https://dataclimatehealth.duke.edu/)
Written, photographed and produced by University Communications
YOU MIGHT ALSO LIKE THESE